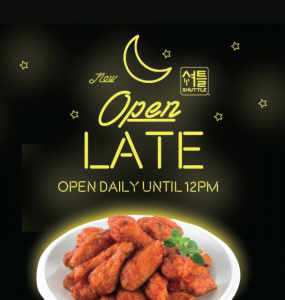 Hello to all you lovely Seoulites and congrats on making it through a very cold Seoul winter. Thank you for supporting us and helping us blow past previous order records; obviously, we wouldn't be able to keep growing if it weren't for you guys. With every order we aim to up our game and strive to give ya'll the easiest & best possible delivery experience.
April Showers bring…LONGER hours! Yep, you read that correctly; starting April 2nd we will start service at 11:00 AM and accept orders through midnight. We will NO LONGER be having a lunch break during the weekdays between 3:00 and 4:30 PM, we'll remain open all day. Previously our hours of operation were from 11:30 AM to 9:30 PM with a break between 3:00 – 4:30 PM, so this gives you guys four and a half more hours to get food delivered directly to your doorstep. We've had many customers request longer delivery hours because they work late, we hope this helps you guys out! We'll test the new hours for one month, then re-evaluate how popular staying open past 9:30 is; if popular we will keep the extended hours. Please keep in mind that many of our partner restaurants close between 9:00 – 10:00 PM, but don't worry, we'll do our best to curate a selection ample enough to satisfy your late night Crave-ings!
We really want to add more features to help make our service more convenient and satisfying for our Shuttle Family. So if you guys ever have any suggestions or feedback please let us know and we will do our very best to get those sorted as quickly as possible. Thanks so much for choosing Shuttle as your delivery service, we really appreciate all the support we get from you guys. Next time you feel we've completed a five star "worthy" delivery it would be AMAZING if you could rate us on the App Store, Google Play, or Facebook. As a small business we need all the SEO help we can get and positive reviews definitely help us with potential new customers.