In 5 Months, the #ShuttleSaves initiative has saved 35,000 units of disposable cutlery
My name is Florian, I'm the CTO at Shuttle and I work at our office 5 days a week. During the winter our team orders food to the office so we can eat together. At the office, we have plates and cutlery we eat lunch with and wash afterwards. Each time I saw our food arrive with wooden chopsticks, plastic knives, or forks and spoons; it made me feel a little bit guilty about my delivery experience because I knew I wasn't using the cutlery. After a month or so, our drawers became full of disposable utensils, so we began throwing the unused ones in the trash.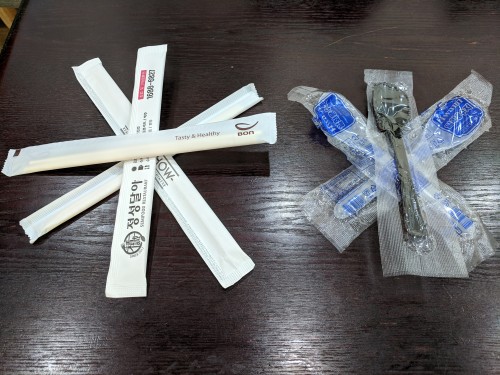 In the summer of 2018,  our team started thinking a little bit more about taking care of the Earth; we thought, "What if we could give Shuttle customers the option to opt-out of plastic cutlery?" We already knew some customers would be interested because we received a few requests asking for an option to receive less disposable packaging. The requests were very few, approximately about one every two months, so we really didn't think that it would be a very popular option. During one of our weekly team meetings I brought up the initiative, #ShuttleSaves; and to my surprise, everyone on our C-Level team agreed that the initiative was something we should do as a company.
Our development team immediately started working on the "No Cutlery" option in the app and on the website. We had to make sure that our customer service team would see the customer's choice, and that the option would display properly on the restaurant dashboard to easily inform them when they prepare the order. The #ShuttleSaves initiative that allowed customers the "No Cutlery" option was quietly launched in September 2018. To my surprise, our customers began using the new feature immediately. By the first month, 4% of all orders chose the "No Cutlery" option. Then it went up to 7% in November, 12% in December, and by January 2019 it was at an all-time high of 22%.